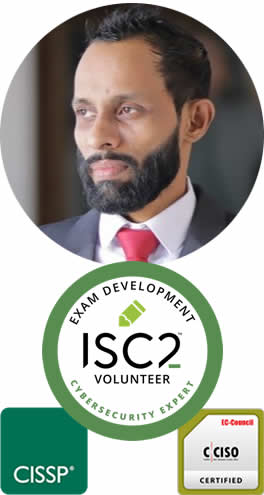 who is Chathura Ariyadasa..?
Boundary-pushing Veteran IT professional.
Holding BEng (Net), PgDip (Net), MBA (PM), MCSEx3, MCT, ITIL, COBIT 2019, CDP, ISO 27001 LA, CISSP, C|CISO. With over 15+ years of hands-on extensive experience with IT Infrastructure Technologies, Information Security Implementation, leadership, drafting profitable IT strategy across different sectors. I am always looking for new ventures where I can apply my expertise, learn and evolve.
and a whole lot more. So be sure to check out the site. You won't be disappointed.
AREAS OF EXPERTISE
Architecture and Strategy
IT / Data Governance
IT budgeting / IT investment optimization
IT Security
Network Design
Routing and Switching
Network Administration
Voice and Telephony
Wireless Networking
Disaster Recovery
High Availability
Project Management
System Administration
Data Center Design
Web Design
SKILLS
ISMS policy creation - 100%
Security architecture - 80%
Identity and Access Management - 80%
Datto I & II, A+, Network+, Security+, NCP, CEHv7, CCNA, AWS SA, MCP, MCTS, MCSAx2,  MCSEx3, MCT, CBSP, ITIL, CDP (IMI), COBIT 2019, ISO 27001 LA, CISSP, C|CISO, BEng (Net), PgDip (Net), MBA (Project Management)