Data Center Areas are to facilitate telecommunication cabling and equipment. Those areas can be categorized as below;
Entrance Room
Main distribution area (MDA)
Intermediate distribution area (IDA)
Horizontal distribution area (HDA)
Zone distribution area (ZDA)
Equipment distribution area (EDA)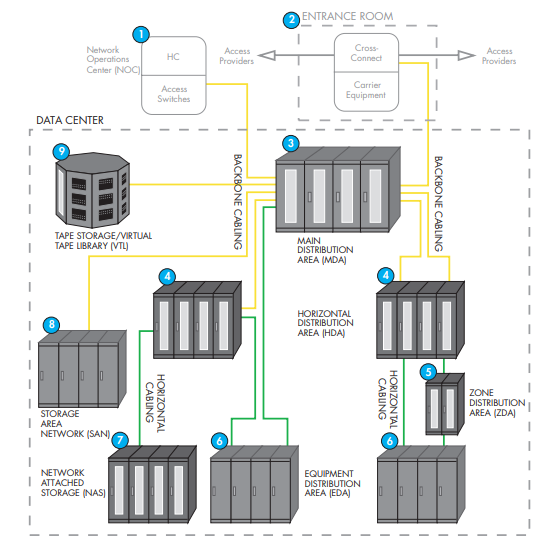 [image credits: http://www.commscope.com/]
Those areas have been logically defined. Physically, those areas could be either separated or within the same spaces. Will discuss bit more in detail
Entrance Room
The entrance Room may include both access provider (SP) and customer (CE) owned cabling. SP demarcation hardware and equipment are being placed in this area. When using multiple entrance rooms, those should be at least 20m apart from each other. Further, entrance rooms should be outside the computer room in order to improve security.
Main distribution area (MDA)
MDA includes the main cross-connect (MC), which is the central point of distribution for the data center cabling system. Below devices are being placed within the MDA
Core Routers
Core, Spine, and SAN switches
High-end network switches
PBX, Voice/VOIP Gateways
Multiplexers
Every data center should have at least one MDA.
Intermediate distribution area (IDA)
IDA is to support intermediate cross-connects. The IDA is optional and can include LAN or SAN switches.

Horizontal distribution area (HDA)
HDA is the distribution point for cabling to the EDAs. The main purpose is to provide network connectivity to the end devices located in EDA. EDA area consists of below devices/hardware.
LAN switches
SAN switches
KVM switches

Zone distribution area (ZDA)
ZDA is an optional interconnection point within the horizontal cabling between the HDA and EDA

Equipment distribution area (EDA)
EDA is the area allocated for end devices/equipment. These devices could be Computers, Collaboration devices &, etc.
Please follow and like us: